We love shoes around here! But let's be honest….who doesn't!?! What shoes you wear can make or break your look. Since we prefer the "make your look" option, we thought it would be fun to share some great shoe styleS with you guys this week. In today's post we are talking five fall shoe trends that you will be seeing everywhere in the coming months!
Five Fall Shoe Trends…Starting with Loafers
There is something so classic, so feminine about a beautiful pair of loafers. Their style may change, but they are ever present in seasonal trends year over year. And this year, loafers are back in a "big" way…  the chunkier the shoe, the better in fact! This shoe works especially well with cropped silhouettes – ankle pants, cropped boyfriend jeans, rolled skinny jeans…. Show those ankles – and loafers – off, ladies! Add a feminine piece to the look, like a puff sleeve blouse or sweatshirt, a crisp white blouse, or a cashmere sweater and sparkly jewelry for a casual, cool vibe.
Black Menswear Inspired Loafers | Burgundy Wedge Loafer | Black Tassel Loafer | Dark Blue Platform Loafers
Quilted Patent Loafer | Python Tassel Loafer | Black Loafer w/ Gold Hardware | Warm Cocoa Lug Sole Loafer
Oxfords
Oxfords were huge back in the 90's, and they are reappearing all over the fashion scenes right now.  They are inspired by menswear, but they can and should be worn with just about any kind of look.  Have fun with it – in fact, the less you think about it, the better!  Pair with skirts, dresses, jeans, and ankle slacks….  Top off with fun and flirty accessories for an edgy but feminine vibe.
Dr. Marten Classic Oxford | Woven Panel Oxford Flats | Mule Style Oxford Loafer | Honey Suede Oxfords | Derby Oxfords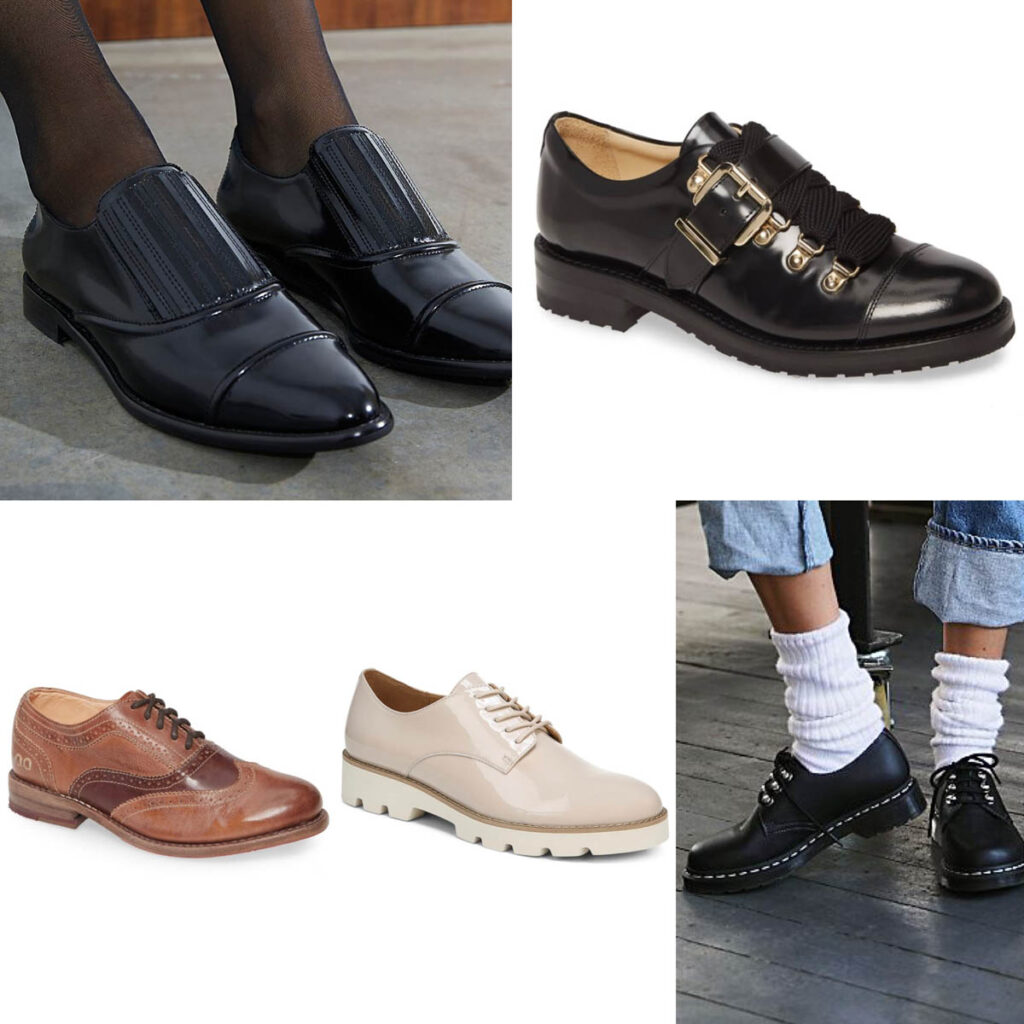 Menswear Inspired Oxford Loafer | Black Lug Oxford | Tan Teak Mason Oxford | Nude Derby Oxford | Black Dr. Martens
Combat Boots
We *LOVE* the concept of these edgy boots with an otherwise feminine look! This is another one where it is best not to think too much and just go for it! Mix these edgy boots with all things feminine and flirty! Pair with your boyfriend or skinny jeans, blouse or sweater, and glam jewelry. And SO fabulous with skirts and dresses as well – just make sure the length is flattering to your height/stature and boot height. 
Chelsea Combat Boot | Lace-Up Boot | Lace-Up Combat Boot | Ivory Lace-Up Boot | Dr. Martens Lace-Up Boot
Black Lace-Up Boot | Leather + Suede Lug Sole Boot | Caramel Leather Combat Boot | Tan Suede Combat Boot | Sandstone Canvas Boot
Bow Detail
Bows on shoes are so pretty, so feminine, so fun…. A great way to add some fabulous girly and flirty to those casual jeans looks so many of us are sporting these days.
Whiskey Suede Flat | Platinum Leather Bow Flat | Leather Bow Slingback Pump | Terra Cotta Bow Flats
Beige Bow Ankle Boots | Cream Bow-Tied Loafers | Snake Pointed-Toe Knot Flats | Red Bow Loafers
Embellished Shoes
2020 has been a doozy, that's for sure. One good thing is the resurgence of all of the embellished shoes – glitter, sparkle, chains, crystals, studs…. All of it is a YES! The perfect way to add some sparkle and shine to these uncertain days we are having!
Chain Detail Slip-On Sneaker | Chain Link Loafer | Chain Detail Suede Bootie | Chain Detail Embossed Lizard Mule
Black Studded Mule | Grey Studded Leather Sneakers | Blush Deco Stud Sneaker | Black Studded Chelsea Boot
Glitter Slingback Pump | Rhinestone Embellished Loafers | Black Embellished Slides | Snake Embellished Slides
Embellished Velvet Flats | Embellished Slingback Flats | White Glitter Sneakers | Silver Multi Glitter Sneakers