We are seeing flare jeans everywhere again this Spring. Flare jeans are one of the most flattering cut options for denim….when styled correctly. We have been getting lots of questions from our clients about how to wear flare jeans, so we thought we would share our top tips and tricks with you guys today!
When styling your flare jeans, keep your look fairly simple. A cute top paired with fun shoes and great earrings do the trick!  Always tuck in your shirt completely or do a good front tuck – you want to see the full length of the jean, including the waistband.  A heel is really a must – your legs will look 1,000 miles long…. And who doesn't want that!?!  
The Shoes to Wear
When talking about how to wear flare jeans a key question for us always revolves around what shoes to wear. A heeled pair of mules, booties, or clogs would be perfect with flare jeans as we transition from the chillier early spring weather to the warmer temps in late spring! The pairs below are some of our favorite closed toe options for the spring.
Neutral Suede Bootie | Taupe Suede Clog | Caramel Leather Mule
When you are ready to wear sandals, just make sure they have a heel or a platform heel on them for that added height and maximized leg length we talked about earlier! And ankle wrap sandals work just fine – don't worry too much if part of the ankle wrap detail is hidden by the jean, but remember that cropped flares are SO fun with this type of shoe as well!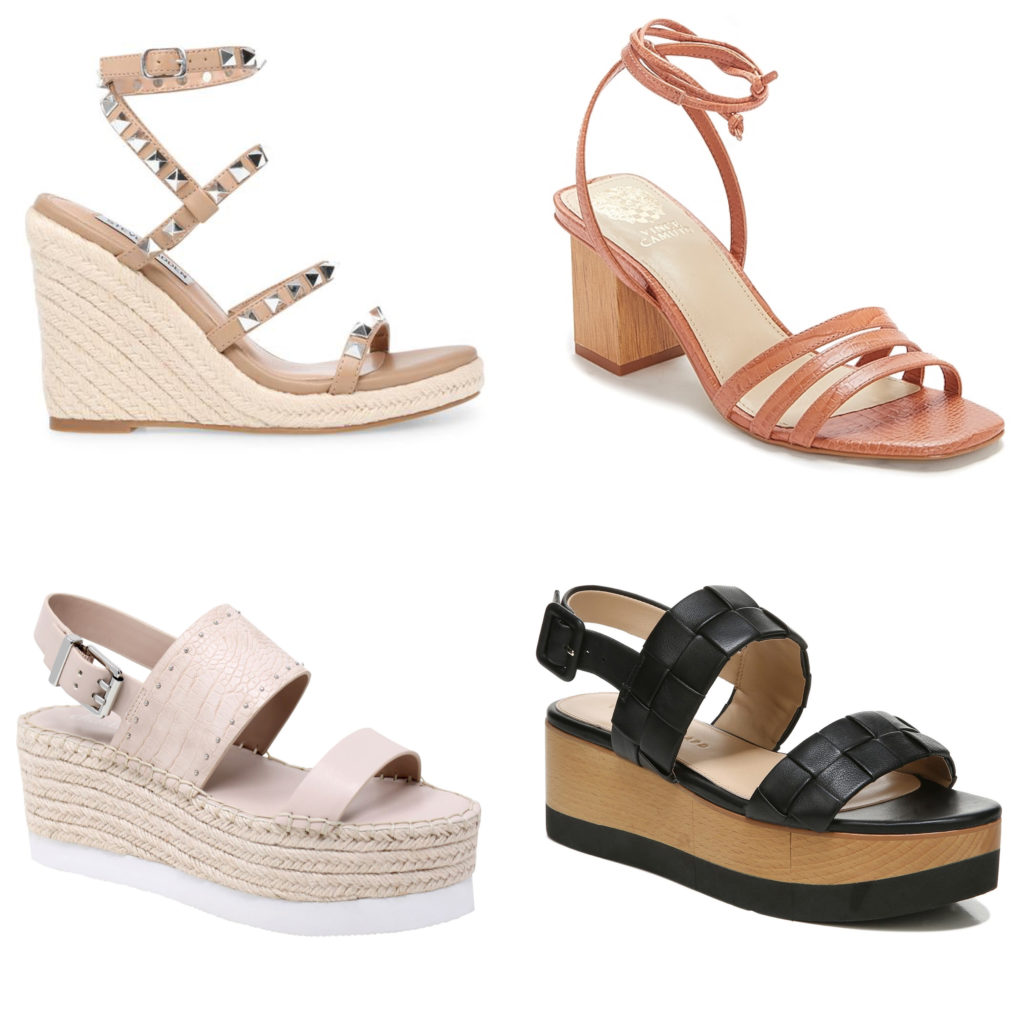 Tan Studded Wedge Sandal | Caramel Croc Ankle-Wrap Sandal | Nude Faux Leather Platform Sandal | Black Leather Platform Sandal
How to Wear Flare Jeans
Katey and Jenny have put together a couple of looks for us with some of their favorite flare jeans! Let's see what fabulousness they came up with this time! First up is the two looks that Katey styled.
I love a white flare with a simple tank in a fun color and a pair of wedges. Simple, yet on point and put together. This look will be a staple in my spring and summer wardrobe for sure. And in terms of the white jeans, y'all know I love J. Crew denim, and these white flares are no exception. Trick of the trade…. When shopping for a white jean, no matter what the style, make sure you pick one that is a thick enough fabric that hides your flaws. J. Crew does this well! I've seen many clients size up in a white jean just so they feel more comfortable, and that's perfectly fine as long as they're not falling down or gapping.
I love to wear a shoe with a heel most of the time, and especially with flares. A wedge is a great way to accomplish the look of a heel if you plan to be on your feet all day!
Basic Boatneck Tank | High-Rise Flare Jean (Regular, Petite & Tall) | Similar High-Rise Flare Jean (Regular & Plus Size) | Embossed Leather Wedge Sandal | Gold Curved Earrings | Gold Layered Necklace | Neutral Leather Crossbody Bag
Dress Them Up a Bit
We discovered the Pilcro denim line at Anthropologie a few years back and have really come to love it. Their quality is top notch, and the pieces are a bit more reasonably priced than other high end brands. For a bit of a dressier look, I love the idea of a feminine spring button down with some of my personal favorite denim flares. Pair with a pretty pair of clogs and some raffia earrings…. And let's talk about this watch band. I discovered this line of Apple watch bands on Amazon last year and really love it. There are a bunch of colorways and patterns to choose from – an inexpensive way to freshen up your accessories!
Feminine Button-down (Regular, Petite & Plus Size) | Icon Flare Jeans (Regular, Petite, Plus Size & Tall) | Pink Suede Clogs | Apple Watch Band | Raffia Fan Statement Earrings | Aviator Sunglasses
Jenny's Favorite Ways to Style Flare Jeans
I like to keep it simple when I wear my flares. And I always ALWAYS tuck my shirt in and wear a heel for that long leg look! I love this English Factory frilly ruffle sleeve shirt paired with flare denim for a casual but put together look. If you have not discovered English Factory, this should be your first piece. This brand pays so much attention to details and trends at such a great price. Add in some fun earrings, a clutch, and some cute platform wedge sandals like this snakeskin pair below. A client recently snagged these up on our last shopping trip, and they are amazing. I love the sporty sole, and she said they were so comfy!
Ruffle Sleeve Top | Frayed Flare Jeans | Raffia Lantern Earrings | Natural Mini Fringe Clutch | Leather Platform Wedge Sandal
For a dressier look, consider a monochromatic look with white flare jeans! It's such a fresh, crisp look for spring and summer! Y'all know I've never met a bow I didn't like, and this top is just what you need to elevate those white jeans. This top would also be adorable with a skirt or distressed denim shorts. And these shoes….  They are absolutely beautiful, and a designer dupe for 1/3 of the price (note – they also come in black!).
Bow Shoulder Tank (Regular & Petite) | Fray Hem Flare Jeans | Similar Flare Jeans (Regular & Plus Size) | Gold Multiband Wrist Cuff | Metallic Leather Slide Sandal