We have been so excited to do a blog post about the biker shorts trend! But, we've had to wait several weeks for them to be restocked to actually post it for y'all…. This trend is HUGE and across the board, this fun piece has been pretty much sold out until this week! Without further ado…..
The Biker Shorts Trend: Our Favorites
Baleaf High Waisted Compression Shorts
First up, this Amazon pair is a tried and true piece by our stylists. If you want to try the bike short look but you aren't ready to make a large investment, this is a great way to do it! And we can vouch for this pair! It comes in lots of pretty colors, as well as some great staple colors like black, charcoal, and navy. Note that for an everyday bike short (as opposed to a workout short), we tend to prefer the longer 8" length. This length provides great coverage and shaping while still hitting mid- to low-thigh, which is a flattering length on anyone. If you are shorter side of the spectrum, you could consider the 7" as well.
We love this pair by Athleta– it is guaranteed to be high quality and flattering! It comes in black and a beautiful violet – the violet is basically sold out right now, but we wouldn't be surprised if it is restocked soon!
Spanx Look at Me Now Bike Shorts
If you are nervous about trying bike shorts, Spanx is definitely a foolproof way to try them. We all know that Spanx delivers shaping perfection, so you are guaranteed to look fabulous in your new shorts!
We also love this pair by ALO – it did at one time come in so many fabulous colors…. Though most are now sold out, we are hopeful that there will be a restock just like there was with the black pair!
How to Wear

Graphic Tee | Lightweight Jacket | Sneakers
We love the idea of bike shorts with an oversized graphic tee like this one from Evereve. In many parts of the country, a lightweight jacket is still necessary for summer whether that be all day long, or just in the mornings and evenings. We love this version of a windbreaker by Rails – plus we always recommend that our clients have a good olive green jacket in their closet….  It's perfect for throwing on over that graphic tee if it's chilly. Add in some cute sneakers, and you are summertime cute and comfy!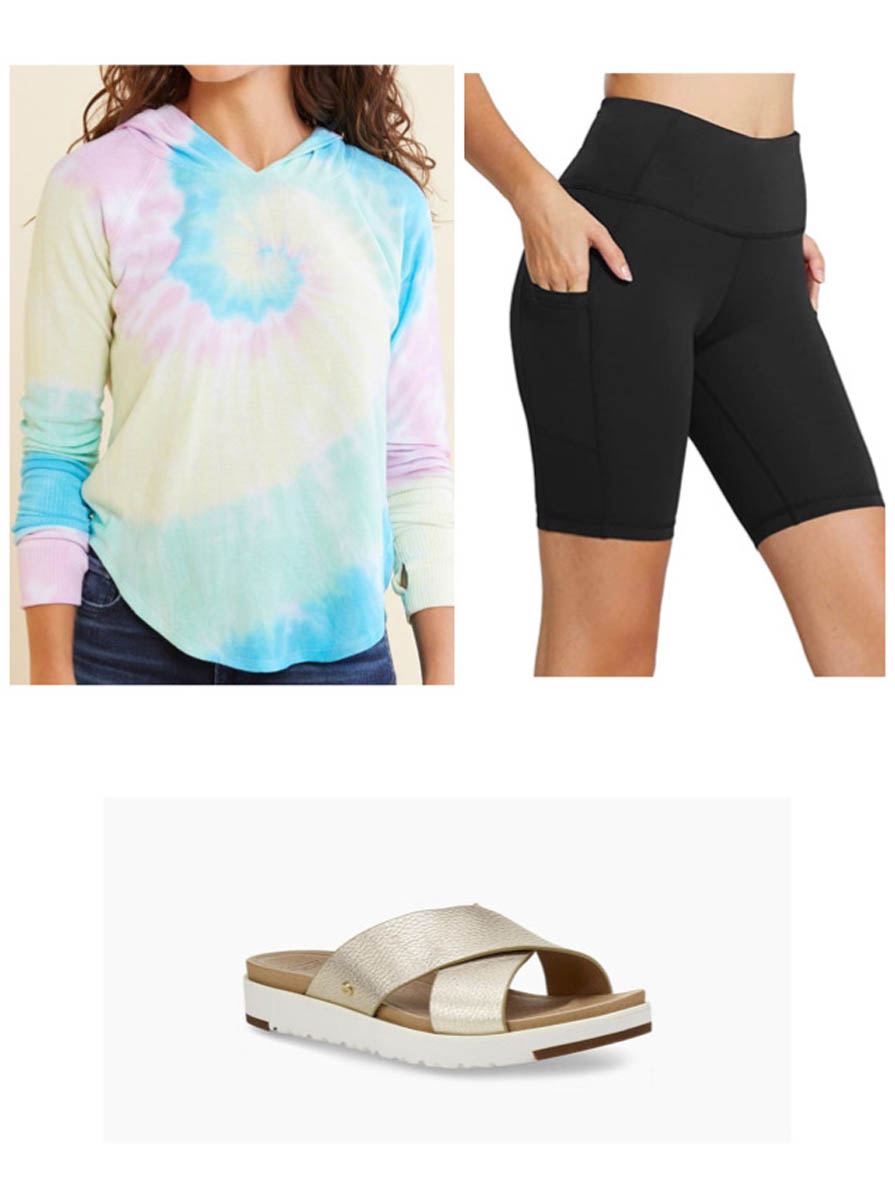 Tie-Dye Raglan Hoodie | Metallic Sandal
Comfortable around the house; cute to run some quick errands. Combine two of summer's hottest trends – the bike short and tie dye! And if you don't know about these Ugg slides, please check them out! They are some of the most comfortable summer slides you will ever own, they are pretty, and they weather getting wet around the pool really well!
Oversized Tee | Denim Jacket | Studded Sandals
Throw on a simple oversized tee – wear it untucked, half tucked, or knotted at the waist – and your favorite flip flops or casual sandals. Add in an oversized jean jacket if it's cool for a casual, edgy look!