A few years back, we did a blog post around the Rock It Like A Redhead event here in Nashville. The event was put on by How to be a Redhead founders Stephanie and Adrienne Vendetti and was a wonderful confidence inspiring event dedicated to redheads.  Coming off of the event, we did a blog post dedicated to all the beautiful redheads out there…. What Colors Look Good on Redheads. We thought it would be fun to update that blog post with some fun current pieces for all of you gorgeous redheads out there!
It can often be quite a challenge knowing what colors will best compliment a redhead's skin tone and hair color.  Red hair brings its own statement to the fashion scene, and it can even be enhanced with smart clothing selections.  Too many redheads shy away from bright colors in fear of clashing with their hair and skin tones, but wearing the purest saturated colors are often the best look for those with red locks.  So, keep reading to get a few tips on colors that make redheads radiate.
What Colors Look Good on Redheads: Green Hues
Go Green! All redheads should have green in their closet— most shades are instantly flattering. Olive green, kelly green, and emerald jeweled-tones all make red hair dazzle. Just be sure to stay away from yellowy-greens and always go for more of the saturated greens.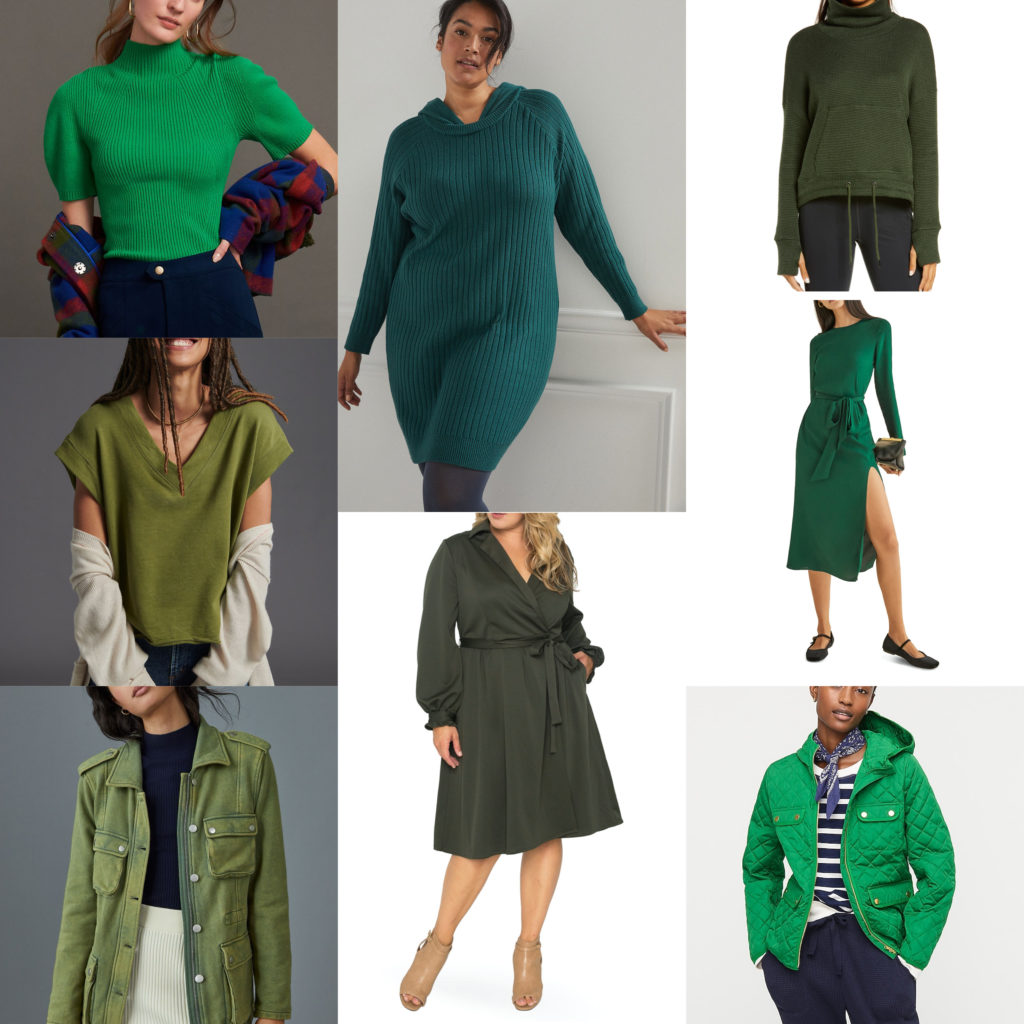 Green Sweater Tee | Moss V-Neck Sweatshirt Top | Utility Shirt Jacket | Dark Green Hooded Sweater Dress (Regular, Petite & Plus Size) | Dark Olive Utility Shirtdress (Plus Size) | Olive Green Funnel Neck Sweatshirt (Comes in Extended Sizes) | Emerald Jersey Midi Dress | Dark Clover Quilted Field Jacket
Blue Hues for Redheads
Blue is another color that highlights fair skin and gives a deep contrast to accent red hair. Navy, cobalt, and soft powder are all great options. Even brighter blues in the turquoise family and deep blueberry colors are other smart choices. A simple denim blue is an easy go-to option that enhances the complexion of the true redhead.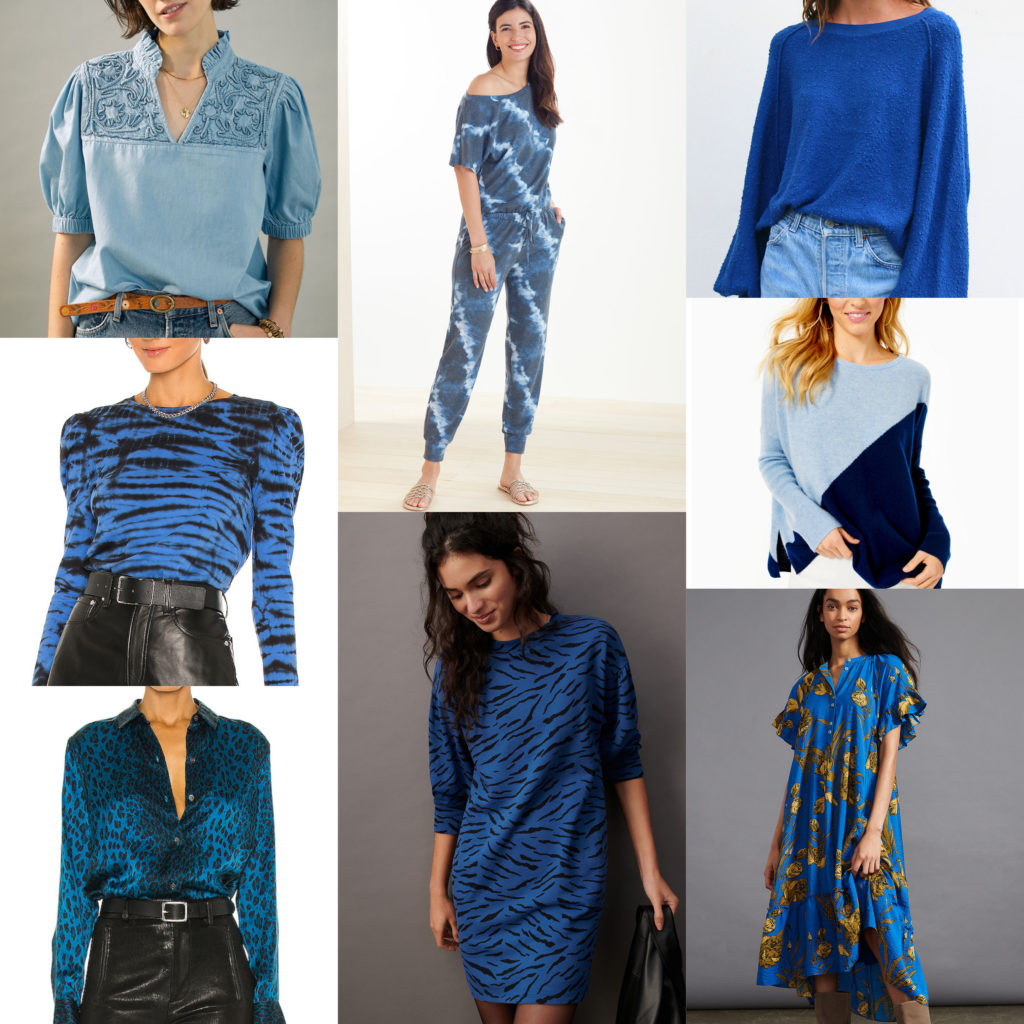 Light Blue Embroidered Blouse | Cobalt Tie Dye Top | Deep Lagoon Animal Print Blouse | Navy Tie Dye Off the Shoulder Jumpsuit | Navy Puff Sleeve Tunic Dress (Regular, Petite & Plus Size) | Ocean Oasis Pullover | Oxford Blue Colorblock Cashmere Sweater | Blue Motif Maxi Dress (Regular, Petite & Plus Size)
Purple Hues for Redheads
Surprisingly, purple is very flattering on redheads. Be sure to stay away from soft lavenders – muted shades can wash out your skin and hair. True purple and bright, electric shades are all complementary choices. Purples with blue undertones work best, but red-toned purples do not.
Violet Beach Day Pullover | Lavender Striped Button Down | Wild Orchid Shiny Pullover | Dark Grape Shimmer Dress | Grape Silk Top | Summer Plum Scuba Sheath Dress | Plum Shift Dress (Plus Size)
Red Hues for Redheads
I'm sure you've heard the stereotypes saying redheads can't wear red. But this myth is far from truth. When picking out reds to wear, go for a true jewel tone red! Of course, you can be bold and wear that gorgeous red dress, but if you aren't comfortable going all red, here are some ideas on how to incorporate red into your outfits to highlight your beautiful locks: a red shell under a jacket; bright red pants or a skirt with a black top; red accessories such as a red belt, red shoes, or red nail polish; or a print with red accents.
Red Pleat Neck Sleeveless Top | Cherry Italian Wool-Cashmere Wrap Coat (Comes in Extended Sizes) | Red Motif Knit Midi Skirt | Red Ponte Dress (Comes in Extended Sizes) | Red Ruffle Waist Mini Dress
Cherry Lace Paper Bag Pant (Regular, Petite & Tall Sizes) | Red Leather Crossbody Bag | Red Reversible Leather Belt | Red Softblend Sweatpants (Regular, Petite & Plus Size) | Military Red Gloss Waterproof Rain Boot
No-No's
As with any hair color and complexion, there are some "no-no's." Avoid pastels since these colors tend to wash out those with red hair. Also avoid most oranges, yellows, and burgundy-reds. Yellow is really a wild card color— on some it looks unbelievably good, and others it washes them out!
Never be afraid to be bold with the colors you wear. Don't shy away from bright, saturated colors— they are there to accentuate you, not harm you!